Types of Commercial Refrigerators
Commercial refrigerators are used in the food industry for the protection of foods from spoilage. Food businesses use various types of cooling and freezing units to store food items and extend their shelf life. Kitchens, restaurants, retail stores, and food factories all make use of commercial refrigerators for storage and protection of food from spoilage.
There are various types of commercial refrigerators available and used by food businesses. Every refrigerator serves a unique purpose and is made to fulfill the requirements of different businesses. This post shares various types of commercial refrigerators used in the food industry.
Reach in refrigerators
These are the most commonly used type of refrigerators in the food industry. From retail stores to kitchens to restaurants all businesses use reach-in refrigerators for storage of raw and packed foods. The reach-in units have shelves and segments to store various types of foods separately and easily access them when required.
The reach-in refrigerators come with glass doors to provide an easy view of food items to customers and staff. One can see what is available and what need to be ordered to maintain the stock.
Bakery Display
Bakery refrigerators are used for storage of bakery products like bread butter pastries and cakes. They are usually made of wood or steel and covered with curved glass to make the food items visible to the customers. Bakery refrigerators are commonly found in confectioneries and bakery shops. Food stores also use them to store milk products to protect them from spoilage and offer them a few days of shelf life.
Under Counter
Under counter, units are types of reach-in refrigerators but smaller in size to fit into small spaces. Even though they are smaller in size than the standard reach-in refrigerator they offer you commercial grade coaching for storage of foods. These units are ideal for use in small kitchens and restaurants with low storage space. Under- counter refrigerators are placed behind the counters away from the sight of customers.
Bar Refrigerators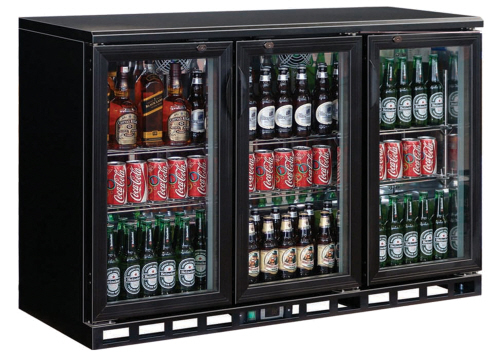 Bar refrigerators are used by pubs, restaurants, and bars for storage of wines and beverages. There are different types of bar refrigerator such as plate chillers, keg coolers, and back bar refrigerators. They are designed to store a variety of beverages drinks and supplies to satisfy the requirements of bars and restaurants. Most bar refrigerators come with a glass door to make the devil images dear and drink visible to the customers.
Merchandisers
The retail stores and confectioneries require cooling units to store packed foods and cold drinks. Merchandisers are the best refrigerators for the storage of packed foods and beverages in shops and retail stores. Most merchandisers have a ventilator in the front so that you can install it with a wall.
They come with glass doors to make it convenient for customers to see what is available for sale. The best advantage of merchandisers is that they offer a commercial grade of refrigeration while providing a clear display of the items to customers.
Serve Over Counter
The over counter refrigerators are ideal for grocery stores, cafes and meat outlets. They have a curved glass cover that makes the food items visible to customers. Serve over counters are similar to countertop displays but the glass does not cover the food items completely. Customers can take the food items they want without asking the servers and pay for the same at the billing counter.
Walk-In refrigerators
The walk-in refrigerators are large refrigeration units similar to a cold store. Food factories and large food business that manufactures vast amounts of foods use these cooling units to prevent the spoilage of food. Workers and chefs can walk into the refrigerators and access the food items. The walk-in units have multiple shelves to place the raw foods and ingredients for the preparation of food.
Due to their large size and mechanism, they required professional commercial services for their maintenance. In case of cooling issues or any other issue, they need professional services like commercial refrigeration service Brisbane to fix the problems.
Prep tables
A kitchen or restaurant needs prep tables to prepare the dishes before serving them to customers. The commercial prep table refrigerators serve the dual purpose of cooling and storing of food. It also serves as a table to place the raw materials and ingredients in kitchens and cooking areas. These units have various drawers for storage of foods, and you can open the one you need without the need of opening the entire unit.
Final Words
These are the various types of commercial refrigerators used in food industries. However, commercial refrigerators need professional services like the commercial refrigeration service Brisbane for their repairs and maintenance. Businesses use the type of units depending on their cooling requirements and amount of foods to be stored. The reach-in and merchandisers are suitable for retail stores while the prep tables and under counter refrigerators are perfect for kitchens and restaurants.